By Jeroen van Meeuwen on September 22, 2017
Yes, it is possible. The Kolab web client has an interface to create and maintain Sieve filters. This makes it possible to create a filter that will forward incoming mails to one or more addresses, both internally and externally. To create, remove or maintain filters go to "Settings -> Filters".
The "Filter sets" column alread has an entry called "Roundcube" as default.
In the "Filters" column click the green plus to create a new filte. Set the filter rules and actions to be executed by the filter and click the "Save" button. To forward mail, select "Redirect mail" as the action.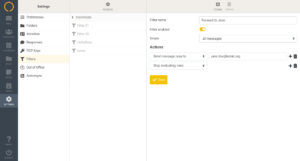 See Also